Maheela Cooperative
The Maheela Cooperative (Maheela meaning "woman" in Nepali) is a socially responsible enterprise that aims to empower women by providing them with training, employment, and fair working conditions. Our cooperative not only benefits our employees but also supports various WFN projects.
Our Dedicated Team
The Maheela Cooperative is proud to have a team of talented individuals, comprising 49 full-time women employees and 5 full-time men employees, along with 31 women working part-time. Many of these women have faced adversity in their lives, including abuse, violence, and poverty. By offering them employment opportunities, we strive to create a positive impact and promote their well-being.
Our Exquisite Products
Since our establishment in 2000, we have been producing a wide range of beautiful scarves, textiles, and necklaces. Our craftsmanship is highly regarded, and we export our products to wholesalers worldwide. Our valued customers are located in Australia, Canada, Europe, Japan, and the US. We also welcome visitors to our production center in Kathmandu (Boudha), Nepal, where they can explore our collection and purchase our exquisite scarves and other gifts directly.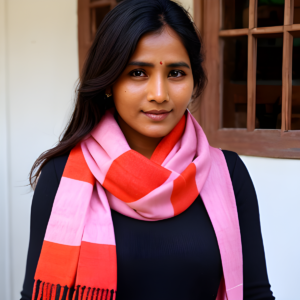 Explore our wonderful handicrafts here.